お知らせ
2023.06.04
1st Short Movie Contest
We are looking for videos that tell a story and make people want to visit the places they see.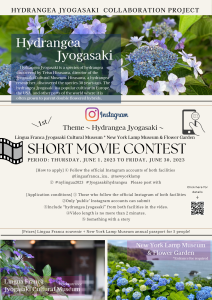 【Submission period】
June 1, 2023 (Thursday) to June 30, 2023 (Friday)
【Submission method】
Follow the official Instagram of both facilities @linguafranca_izu @newyorklamp
Post with two hashtags #nylingua2023 # Jyogasakihydrangea
(In addition to the above hashtags, feel free to use other hashtags.)
There is no limit to the number of submissions an applicant can make. However, you can only upload 1 video per post.
(If there are multiple videos submitted in one post, only the first video will be selected.)
[Submission Requirements]
① Submitters must follow the official Instagram of both facilities
② Only 'public' Instagram accounts can submit
③ Include images of hydrangea and the sub species "Jogasaki hydrangea" from both facilities in the video.
④ Video length should be no more than 2 minutes in length
⑤ Video should tell a story
* If you are under 18 years old, please apply with consent of your guardian. Applicants under the age of 18 will be deemed to have applied with parental consent.
* Professionals or amateurs are OK.
[Winner announcement]
The winning works and the account names of the winners will be announced by the end of July 2023 on the official website and official Instagram accounts of both facilities.
The goal is to have 5 winners.
*Winners will be contacted via Instagram's direct message function.
Please understand that we will ask you for your address and other contact information in order to ship the prize.
If the message cannot be sent or if there is no reply for more than 5 days after sending the message, the prize will be invalid.
[Prizes]
Lingua Franca Souvenir + New York Lamp Museum Annual Passport
*Prizes will be shipped in late August.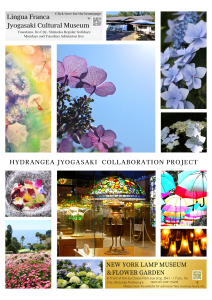 【Notes】
・As a general rule, entries are limited to photographs taken by the applicant himself/herself.
・ Only videos taken at both facilities are eligible.
・Although the copyright of the posted image belongs to the applicant, we will not restrict the rights of the author, and we will consider that you have consented to secondary use of the submitted work. (Submitted works may be used on websites, SNS, posters, flyers, etc. for publicity and PR purposes of both facilities.) In addition, we may make corrections such as trimming as necessary.
・We cannot respond to objections to the results of the examination.
・We do not accept any inquiries about the reason for winning.
・Applicants will be responsible for Internet connection charges and communication costs incurred in participating in this contest.
・This campaign has no connection to Facebook's Instagram.
・This contest may be canceled without notice for any reason.
・If a person is included in an image, please do not submit without obtaining the consent to use their image.
・Neither Lingua Franca nor NY Lamp & Flower Museum will be held responsible for any infringement of third party rights such as portrait rights or copyrights, and the applicant will be responsible for resolving any such issues.